The editorial staff at JazzProfiles receives loads of information about new releases, both self-produced and commercially released by a record company. Over the past twenty years, one label that it has been consistently impressed with in terms of the quality of the music it issues is Chesky Records.
Here is an overview of what Chesky was up to in 2015.
For a look at what's ahead, please visit the label directly at www.chesky.com.
News
Chesky Records Yearly Review and Preview
TAKE A LOOK BACK AT CHESKY'S 2015 RELEASES
IF YOU WOULD LIKE PROMO COPIES FOR PRESS OR RADIO, PLEASE CONTACT
JEFF@CHESKY.COM
FROM THE MOUNTAINTOP
Billboard Top 15 Bluegrass Album
Featuring a full seventeen songs whose history can be traced back decades or even centuries through the Appalachian region, From The Mountaintop, and renowned Cellist, Dave Eggar, assemble an all-star cast of musicians set to treat your ears and transport you to the Appalachian region of years long passed.
"If you're a fan of this type of traditional music (and I very much am), From The Mountaintop is a must-hear album, and perhaps my favorite album of the year. The Binaural+ capture is like being there." - Jude Mansilla, Head-Fi
"A long-overdue contribution to this important genre. My highest recommendation for both musical content and for the quality of the production." - David Robinson, Positive Feedback
----------------------------------------------------------------------------------------
INTERPLAY
Mark Sherman and Kenny Barron
This stellar inter-generational collaboration between vibraphonist Mark Sherman and National Endowment for the Arts Jazz Master Kenny Barron, showcases their remarkable interplay on nine well-chosen standards and two originals. "Kenny's harmonic sense and just the way he serves the music is at the highest level," says Sherman. "I was transcribing Kenny Barron solos when I was 16, 17 years old, so you can imagine how much it means to me to be recording with him."
"A great meeting between jazz piano legend Kenny Barron and the younger, brilliant vibes player Mark Sherman – Barron being a veteran of top notch duo settings, and Sherman newer to it – but Sherman succeeds here mightily! Interplay couldn't be a more fitting title, as the pair are perfectly simpatico – working together on a range of material and a lone Barron original, it's wonderful from track-to-track – feeling like one of the coziest, strongest late night jazz club sessions you'd ever be lucky enough to see. Includes nice takes on the tried-and-true "Afternoon In Paris", "Dear Old Stockholm" and "Indian Summer", the Barron composed waltz "Venture Within", Dexter Gordon's "Cheese Cake", the Charles Mingus gem "Orange Was The Color Of Her Dress, Then Blue Silk", "Polka Dots And Moonbeams", "Without A Song" and more." ~ Dusty Groove, Jazz Chill Music
----------------------------------------------------------------------------------------
PRIMAL SCREAM
Once again pianist/composer David Chesky courts a dark muse on this second outing by his Jazz in the New Harmonic quintet. The noirish atmosphere prevails from his first dissonant stabs at the keyboard on the opener, "Check Point Charlie", to the final moody strains of the closer, "Sleepless in New York". This is a different kind of cool jazz, one that grooves along steadily. Featuring Billy Drummond on drums, Javon Jackson on tenor sax and clarinet, Jeremy Pelt on trumpet and Peter Washington on bass. Close your eyes and you can fell a fundamental groove-and-riff formula that is not unlike what Eddie Harris was putting down on "Listen Here" or Herbie Hancock on "Cantaloupe Island".
Four Star Review: "This is a cool, calm and collected set, dry as a martini and nearly as subtle." - John McDonough, Downbeat
"...that steady-strolling groove and the overall lack of pretension and unncessary flamboyance keep things centered, resulting in music that suggests an almost zen-like contemplation on the dialectic between control and freedom." - David Whiteis, JazzTimes
----------------------------------------------------------------------------------------
IN AN AMBIENT WAY
POWERHOUSE is a jazz super group that set its sights on interpreting Miles Davis' groundbreaking album In A Silent Way using modern recording technology and sonic textures as a contribution to the improvisation. Not only is the texture of the room taken into consideration for the choice of music, but also the prime placement of each instrument within the matrix of the captured sound, all of which added to the input of inspiration that makes the music more alive and interactive.
Featuring: Wallace Roney (trumpet), Bob Belden (soprano sax & flute), Oz Noy (guitar), Kevin Hays (Fender Rhodes), Daryl Johns (bass) & Lenny White (drums)
----------------------------------------------------------------------------------------
DUNNUN KAN
The All-Star Drummers of Guinea
Dynamic percussionist Mangue Sylla returns to his West African roots, first visited on his 2007 debut recording Kon Koura. The Guinea native's traditional drumming style showcases his profound mastery of the country's distinctive percussive instruments: the sangban, doundoun, and djembe. Dunnun Kanis rich with the great strides made by Sylla in the eight years since releasing Kon Koura; his playing is more masterful and electrifying than ever before, yet he still delivers the familiar history and rich stories of his native Guinea, drumming like an artful archivist.
----------------------------------------------------------------------------------------
JOY and SORROW
While in Poland attending the performances of his opera The Mice War at the Krakow Opera, David Chesky and conductor Yaniv Segal took a life changing trip to Auschwitz and Birkenau. Emotionally shaken by the experience, David wanted to create works not only depicting the sorrows of the death camps, but the joys and celebrations that encompass all aspects of Jewish life. David took the Eastern European musical language of Klezmer and used it as the building blocks to construct these modern Jewish works for The Chelsea Symphony featuring soloists Artur Kaganovskiy (violin), Ethan Herschenfeld (bass), Moran Katz (clarinet), and Kristina Reiko Cooper (cello).
"Among discs of Chesky's music, this one is a winner, and, as one would expect from this label, the engineering is superb, featuring binaural recording technology." Raymond Tuttle, Fanfare Magazine
----------------------------------------------------------------------------------------
TEARS AND RUMBA
On her third for Chesky Records, Xiomara Laugart steps up to the plate with her own distinctive style to interpret some Cuban classics from the golden era of the 1920s.Tears and Rumba is a fine introduction to the singer-songwriter's driven trova style from the city of Santiago and features works by two extremely influential composers of that era, Maria Teresa Vera and Miguel Matamoros. Laugart grew up listening and singing these tunes with her father, who encouraged her to sing starting at the age of five. "We heard these songs on the radio and everybody listened to the radio then," she said of her Havana childhood. As the title of the record suggests the songs that Laugart interprets so elegantly range from the moody trova style standards like Vera's "Ausencia" to the danceable son montuno of Matamoros' "La Mujer de Antonio." The heart wrenching lyrics of "Ausencia" speak about a love that will never be. Mixed with Yunior Terry's stirring acoustic bass, they will have you sobbing in your mojito. But not to worry, Laugart, who has been influenced by Chaka Khan as much as by Vera and Matamoros, will have everyone packing the dance floor in a New York minute with her swinging versions of "La Mujer de Antonio" and "Nadie Se Salva de la Rumba," made popular again during the 1980s by Celia Cruz.
----------------------------------------------------------------------------------------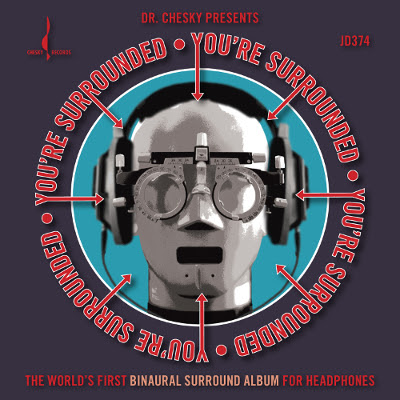 YOU'RE SURROUNDED
Dr Chesky says......"Is it possible to hear an all natural 360 degree soundstage with just headphones and no artificial processing?"
The answer is maybe. It depends on a few things. Everyone's ear pinnas are different, just like your fingerprints. In other words, people that have pinnas that closely match our B & K Binaural human shaped head microphone's "ears" will hear the most precise and immersive sound field; those whose pinnas don't match exactly will still hear an immersive soundfield. We have recorded a great selection of music and tests to demonstrate that it is possible to be enveloped in a 360 degree soundfield with just a pair of headphones, without any ARTIFICIAL processing or additives, just all natural 100 percent organic Binaural. Of course, all headphones sound different and the immersion may vary, depending on the design of the headphone, and how it matches your pinnas. So if you have the chance, try listening with different full-size headphones as well as in-ear headphones. We wish you great listening.